SACE Fct
The partner of Italian companies for factoring services
We were created in 2009 as a factoring company, to meet the Italian companies' need to support liquidity and strengthen their cash flow management. We offer a wide range of services for the factoring of receivables, dedicated to exporters and to suppliers to the public administration and large Italian industrial groups. We distribute our products through our commercial network and we have in place various collaboration agreements with organisations such as Poste Italiane, local bodies, business associations, and local banks.
SACE FCT is registered at no. 86 in the List of Financial Intermediaries provided for by Article 106 of the Consolidated Law on Banking (TUB); it is also an active member of the Italian Factoring Association (Assifact).
SACE Fct is wholly controlled by SACE.
Simonetta Acri
Simonetta Acri has been in SACE since 2003, where she has held various key positions, contributing to the development of new operational areas and giving a significant boost to the commercial network. Previously she worked at Regional Head Structured Trade & Export Finance for the Corporates & Investment Bank Division of Deutsche Bank, in charge of the Italian market and South Eastern Europe, and was head of the Trade Finance unit at Morgan Grenfell. She now holds the role of Chief Mid Market Officer.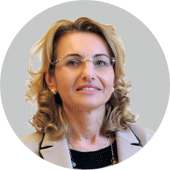 Board of Statutory Auditors
Antonio Campobasso
Standing Auditor
Irene Sanesi
Standing Auditor
Agreements
List of the local bodies with which SACE FCT has signed agreements and conventions:
Regioni
Friuli Venezia Giulia - Lazio - Molise - Puglia
Province
Brescia - Brindisi - Chieti - Como - Firenze - Lecce - Lecco - Milano - Pesaro e Urbino - Viterbo
Comuni
Aprilia - Assago - Bernareggio - Bresso - Brescia - Carbonera - Carbonia - Casalecchio di Reno - Castello di Godego - Cisternino - Crema - Fiano Romano - Galatone - Lari - Leini - Lodi - Lonato del Garda - Maglie - Matino - Melendugno - Melfi - Milano - Negrar - Palagiano - Pontecagnano Faiano - Portogruaro - Priverno - Rieti - Saltara - Sennori - Salò - Torre di Mosto - Urbino - Vigevano - Zola Predosa
Provincia di Mantova e Comuni aderenti al Protocollo Sbloccacrediti:
Bagnolo San Vito - Castel Goffredo - Castiglion delle Stiviere - Curtatone - Goito - Gonzaga - Mantova - Marcaria - Moglia - Ostiglia - San Benedetto Pò - Viadana - Virgilio - Volta Mantovana
SACE Fct S.p.A.
Registered office Via San Marco, 21/A • 20121 Milan
Share capital 50,000,000.00 (sole shareholder) – Milan Companies Register – Tax code and VAT no. 06560010966
Registered at no. 86 of the List of financial intermediaries as per art. 106 of the Consolidated Law on Banking (TUB); I.E.C. no. 33610